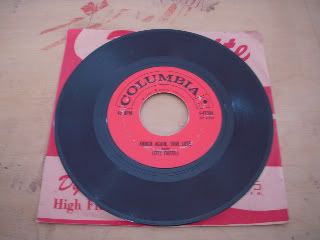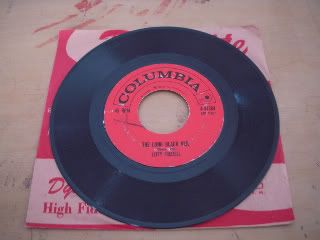 Lefty Frizzell
-
Knock Again, True Love b/w The Long Black Veil
(1959)
click for larger image (1)
click for larger image (2)
Lefty Frizzell was a country/honky tonk singer that died at the early age of 47. He very much influenced some of country music's earliest talent. Including Merle Haggard, Willie Nelson & Keith Whitley.
I found this 45 today when I was at Extreme Noise here in Minneapolis with a friend. They had boxes upon boxes of old 45's that they were selling for $1 each and if you bought 3 you got charged for the price of 2. Let's just say I walked out with a handful. So more entry's will be done.
What I like most about this song is the lyric "I have been in the arms of my best friends wife". So good.
Label
: Columbia Records
Year
: 1959
Format
: 45RPM
Cat
. #: 4-41384
Tracklist:
Side A:
1. Knock Again, True Love
Side B:
1. The Long Black Veil